Late in October, three years after we first met, Alan and I found ourselves on a blustery, rainy day at a quarry in Ohio – about to submerge into the icy water. What were we doing?! 
We'd always wanted to be certified as SCUBA divers, and decided to use the advance money from The Sea Knows to get to know the sea – up close and personal. We'd completed our training course and here we were, weighed down with equipment, oxygen tanks, and thick wet suits, ready to do our certification dives.  
"Follow the rope down to the platform," our instructor told us in the water. Everyone submerged, including me. Immediately my mask flooded. I tried to ignore it and began to follow the rope down into the cold, murky water. Alan and the rest of the class were already well below me. But, despite frequent stops to equalize, sharp pains began shooting through my ears. Everything seemed wrong.
I returned to the wavy surface and fought away panic. "Breathe, just breathe," I told myself. Finally, calming myself, clearing my mask, I submerged again. Hand by hand, I followed the rope down, just me and my ragged breath. Finally, I reached the wooden platform 20 meters down where the rest of the class was kneeling. I caught Alan's eye and tried to give a composed smile. Then, trying to kneel on the platform, I began to tip backwards. I tried again, shifting my weight. It felt like a current was pushing me – only me – and I was an astronaut about to roll into a neverending tumble into deep, black space. I grabbed onto the side of the platform and held on for dear life. "Breathe, breathe." Slowly, one task at a time, I performed the skills needed for certification.
The next day, it took all we had to get into our still damp wet suits and submerge back into the freezing cold water. But by the time the day ended, we'd done it. Alan and I wearily but proudly received our certifications – and hoped it would be worth it.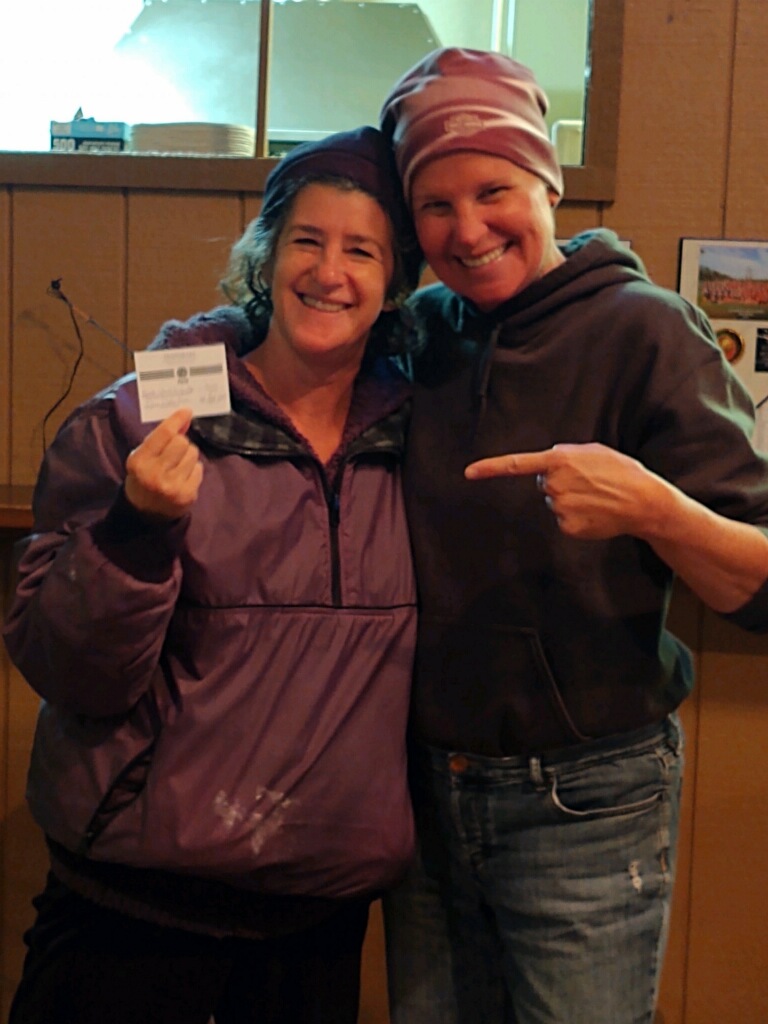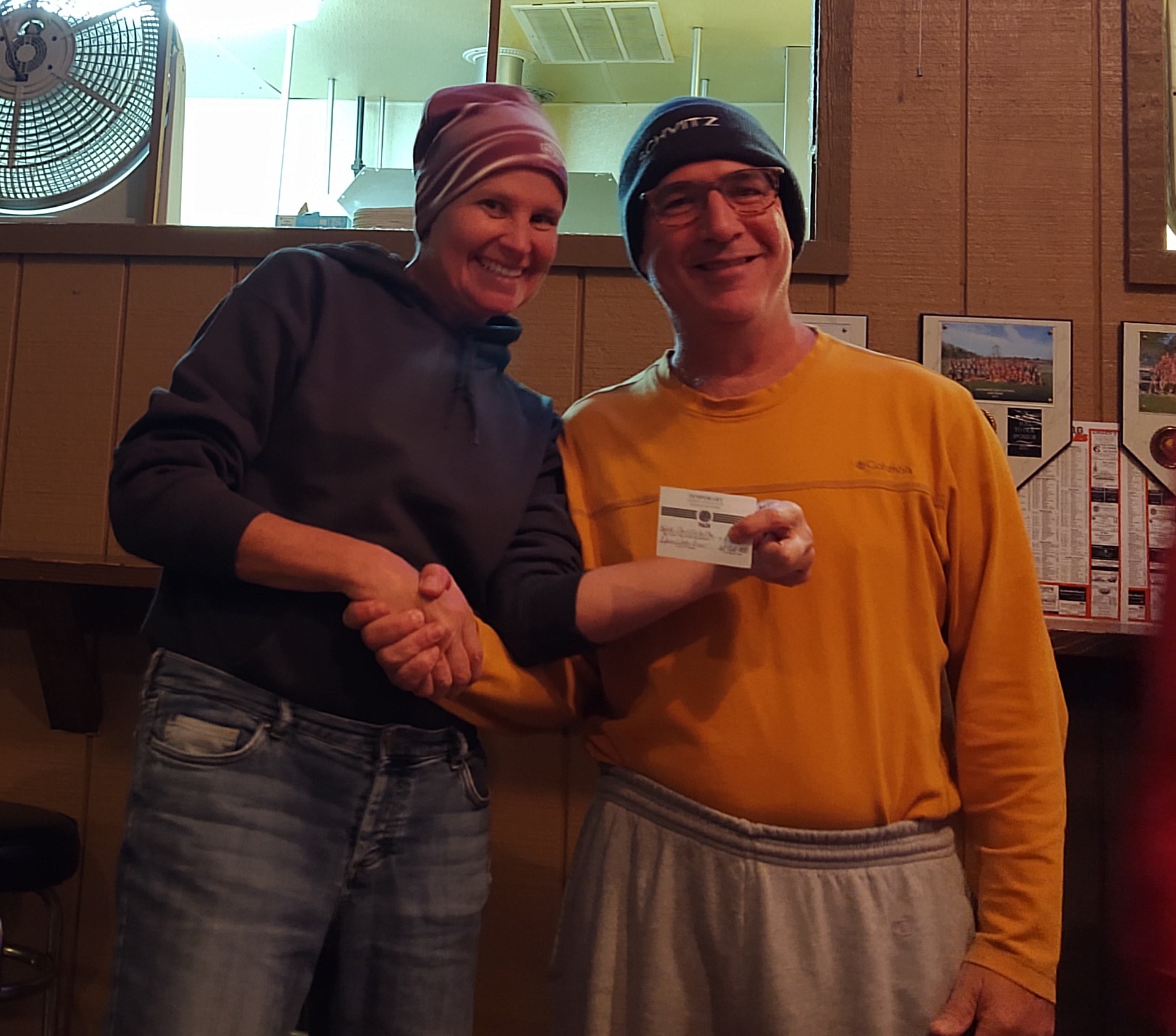 Alice and Alan with their scuba certifications.
In only one week we were taking a trip to Japan and Thailand, where I'd be doing school presentations and we'd do our first real dive. I was excited and ready – but my ears were not. They'd never unplugged after that first dive. I tried ear drops, decongestants. Finally, I went to the clinic, and got an emergency referral to see an ENT. After camping out in their lobby trying (politely) to get an appointment  sooner than a week away, I saw a doctor. Middle ear barotrauma. "Don't worry, you won't ruin your ears if you fly. But it may get uncomfortable, and you may burst an eardrum," the doctor said. I'd heard stories about the kind of unbearable pain "uncomfortable" could mean! 
He gave me medications to try to clear the ears, and each day they improved. Would flying be okay? I wasn't sure, but with the help of many Lifesavers candies, I got there pain free. However, when the day of our dive arrived, my ears were still slightly plugged. "Should I do it?" I asked Alan in the van on the way to the dive boat. "I may regret it." 
"You'll definitely regret it if you don't do it," he said. 
I knew I had to try. The doctor had said that in many cases the troubles happen only on the first dive. I hoped that would be true for me.
So, when the time came to submerge into the Andaman Sea by Thailand's Phi Phi Islands, I literally held the hand of our dive master, terrified, and down we went under the sea. 
What we saw was amazing. Huge schools of small, shining fish, moray eels, glowing star fish, and bold clown fish swimming among tufts of sea anemone. Alan, swimming confidently on his own, saw an octopus!
Sun, our dive master, pointed out a moray eel, great barracudas, a tiny crab. Smiling, she encouraged me. And when I swam right into the middle of a school of thousands of yellow fish, I knew it was worth everything I'd gone through. By the third dive, I had gained the confidence to swim on my own.  
I felt such a surge of happiness. It hadn't been easy. But it was amazing.
Happiness is facing your fears and moving forward. What a feeling it is to know that you've done it.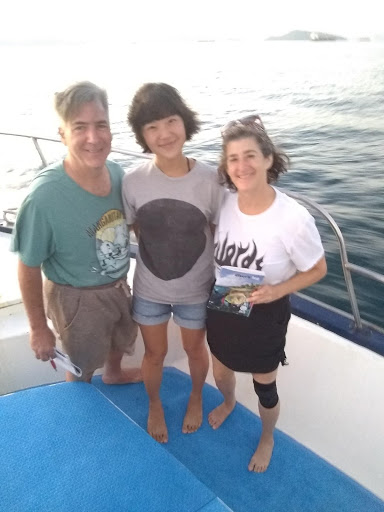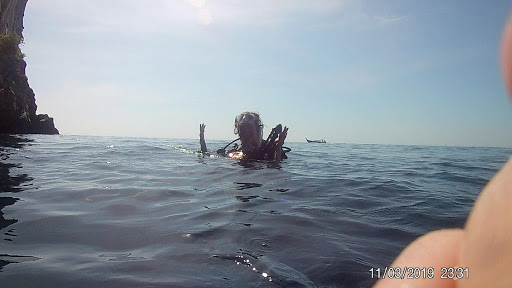 (Left/top) Alice and Alan with their dive master Sun.
(Right/bottom) Alice in the water.